The Investment Room Become New East Stand Sponsor!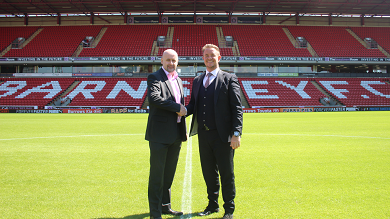 Following the completion of a lucrative three-year deal, as of today's Sky Bet Championship game against Derby County the stand will be officially named 'The Investment Room East Stand'. The sponsorship deal sees the company logo and slogan proudly featured throughout the East Stand, our biggest individual stand here at Oakwell with a capacity of over 7,000 seats.
The Investment Room have been Official Club Partners for the past two years and during that time became sponsors of the Barnsley FC Academy, giving the Club the backing needed to develop our stars of the future. Local businessman and Director of The Investment Room Dr. Lee Jones, has been a box holder at Oakwell for the past 6 years and is proud to have his company name emblazoned across the stand from which he watches the Reds.
Lee Jones commented "It is once again a privilege to become such an integral part of Barnsley Football Club as the new sponsors of the East Stand. I have been a lifelong fan and have seen some amazing moments at Oakwell, none other than last season which makes me even more proud to make this commitment as the Club returns to where it belongs in the Championship. This is going to be an exciting season and with us already supporting the Barnsley FC Academy, we are thrilled to take this next step in what is fantastic partnership with the Club".
This is an iconic moment for the Club with all stands at Oakwell now sponsored by local Barnsley businesses.
On securing the new sponsorship deal, Barnsley FC's Commercial Manager Ian Leech commented, "I am absolutely delighted that The Investment Room have agreed to become the new sponsors of the East Stand. We have a great relationship with many Barnsley based businesses and the Investment Room have been an integral part of the Football Club for many years. With all stands at Oakwell now sponsored by local businesses, this further emphasises our desire to work with the people and companies who support our Club so passionately. We are building a solid network of business partners who care about the Club and want to contribute to our future. The fact that Lee and The Investment Room have signed to a long term deal shows their loyalty towards Barnsley Football Club and I would like to say a sincere thank you to him for his incredible support. I would also like to take this opportunity to thank our previous East Stand Sponsor Pukka Pies for their support over the years. They are a valued commercial partner will continue as Official Club Partners here at Oakwell."