The Investment Room sign Shirt Sponsorship deal with The Reds!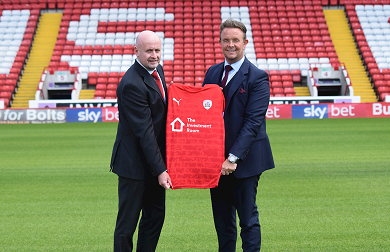 A long-term commercial partner here at Barnsley FC, The Investment Room have sponsored the Academy at Oakwell since 2014 and two years later they became the sponsors of the East Stand.
Their sponsorship of both the Academy and East Stand has also been renewed but it's the new agreement to become front-of-shirt sponsors, the most lucrative deal of its kind in club history that further strengthens their commitment as valued club partners.
Director of The Investment Room, Lee Jones spoke with pride upon completing the deal.
He told us: "Both myself and Jules are absolutely delighted to have increased our involvement with Barnsley FC. It's an exciting time to become the main club sponsor, especially this season, as we anticipate this being an extremely crucial year for the club in consolidating its status as a Championship team.
"We have no doubt the owners will be able to take us to the next level and we are confident that with Daniel Stendel as Head Coach, he will be more than capable in executing this ambition.

"It has been an incredible time to be involved with the club and we are also honoured to have extended our involvement with the Academy and East Stand sponsorship. It is so important that the club continues to invest in the future, and the Academy is so integral in providing players to sustain the ethos Barnsley FC has always driven.
"For The Investment Room to be able to support this again is such a privilege. Let's hope for another great season and let's get behind Daniel and the boys. COYR."
Commercial Manager here at Oakwell, Ian Leech was delighted to secure another lucrative deal as the Reds look forward to the 2019/20 season.
"After a decade of involvement with C.K Beckett, it was important for us a club to find the right principal sponsor that means continuing our close links with local business and the Barnsley community.
"We believe we have delivered that by extending our close and successful commercial relationship with The Investment Room.
"It represents the most lucrative contract of its kind in the club's commercial history and we look forward to a long and prosperous partnership with Lee and his team."