The huge new development that will change the face of Heywood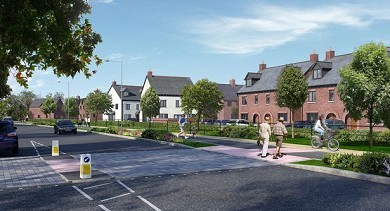 Plans for an enormous development with 1,000 new homes in Heywood have been approved by town hall bosses.
The South Heywood Masterplan scheme will also see a new £20 million link road built.
The scheme was approved by Rochdale Council on Thursday.
Developers say it will double the number of local jobs, improve accessibility to the M62 , and provide a range of new family homes and community facilities.
It has received support from those who believe it will benefit businesses in the area.
Meanwhile, those opposed to the plan, which attracted 260 letters of objection, have expressed disappointment about the loss of green belt land.
The 18-year plan involves the creation of a new 2.2km link road from Junction 19 of the M62 motorway to the industrial parks of Pilsworth Road.
Developer Russell Homes will fund the majority of the link road costs, with the Greater Manchester Combined Authority (GMCA) having agreed to allocate £10.3m and Highways England £1.75m.
The plan also includes a new primary school and a new village retail centre and open public space.
It says the development will generate £175m a year for the economy and bring more than 2,850 full-time new jobs to the area. The plans still have to be rubber stamped by the Secretary of State and if they are, work is expected to start next spring.
Daniel Kershaw, Russell Homes director, said: "The South Heywood Masterplan unlocks enormous potential for Heywood and the borough, providing the infrastructure and commercial space to create thousands of new jobs and bring millions of pounds into the local economy.
"It recognises the area's popularity for manufacturing and logistics businesses and removes the two biggest barriers to growth in those sectors – accessibility and available premises. It will benefit existing businesses and allow many more to locate here, indeed we have already had indications of strong interest in the new commercial space. The link road is the key to all of that, and has formed the foundation around which the rest of the plan has developed.
"To support these new jobs, and provide the variety of homes the borough needs, the plan also involves new homes, a school, a new village centre and public open space, thereby creating a sustainable community, which also benefits existing local residents."