Weston Park Cancer Charity Donation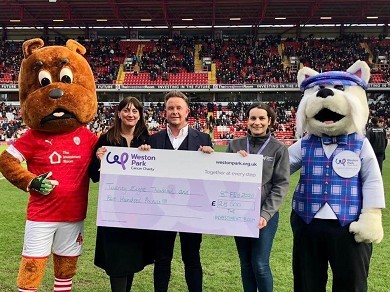 Darren Hayes, Weston Park Cancer Charity's business development manager commented; "One in two of us will face cancer at some point in our lives. Directly or indirectly we can all expect cancer to change everything - when it does, Weston Park Cancer Charity is here to change everything too. But, our work depends on the generosity of people and businesses across the region so we are truly grateful for this enormously generous donation. This gift will make a real difference to people living with cancer. Thank you."
Representatives from Weston Park Cancer Charity and The Investment Room were on the pitch during half time for a special presentation.
Weston Park Cancer Charity's services, advice, therapies and support centre are for patients and the family and friends close to them, helping everyone affected to live with and beyond cancer. The funds they raise also support vital, pioneering research and clinical trials led by the exceptional medical experts at Weston Park Cancer Centre. The charity aims to care in every sense for patients and family members, with them at every step, for free.
The money has been raised by the company by making a donation in lieu of sales and Joint Managing Directors Lee and Julie Jones commented "We're delighted to be able to present this cheque to Weston Park Cancer Charity today. After entering into this partnership a couple of years ago it was key for us to help make a difference and we hope today's amount will do this. We know first-hand that the staff at Weston Park Hospital are renowned for their high standards of care and the charity ore working hard to improve the services it offers to patients. It's great to be able to put something back into the community and we will continue to support the charity to help achieve its ambitious plans to help more patients and families in this region".